Toddler Montessori Program (18 months – 2 ½ years)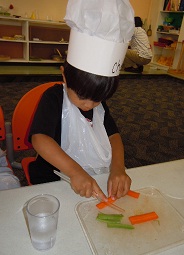 The Austin Children's Montessori toddler children learn to explore their potential, build relationships with new friends and overcome the challenges presented by working in a group. Circle time brings the children together to see new presentations, discuss classroom events, and to learn new ways of interacting with materials and people. The Toddler Montessori Program at ACM strives to bring independence and promote life skills in each and individual child. Toileting is an important life skill that is introduced and mastered during the Toddler Montessori Program at Austin Children's Montessori.
Adult to Child Ratios: 1:7, 2:13
Help me to help myself.