Primary Montessori Program (3 years – 6 years)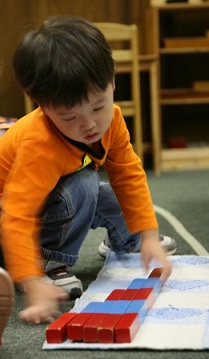 Austin Children's Montessori primary children are given presentations by our certified Montessori Directress/Teachers. The curriculum of the primary class is based in the Montessori Materials. The materials are presented by the teacher/directress, who steps back and watches carefully how the child does the work on their own. From her observations she decides how to proceed with the child's lessons. A child that has mastered the presentation would continue on with the next lesson. The child learns to work for the pure joy of working. External rewards of grades or stickers are not necessary to the child due to the excitement of being able to say "I did it myself".
The Montessori 3-6 curriculum includes: Practical Life, Sensorial, Language, Mathematics, Geography, Culture, Botany, Music, Dance, Spanish, and American Sign Language.
ACM Programs follow the Montessori Curriculum along with school-wide monthly themes.
Adult to Child Ratios: 1:12, 2:25
I did it myself.