Austin Children's Montessori was founded in 2004 and is owned, operated and directed by Thiranjani Wijenayake, a certified Association Montessori International Directress.  The school is licensed by the Texas Department of Family and Protective Services. The curriculum at Austin Children's Montessori is based on the Montessori Method of Education, founded by Dr. Maria Montessori.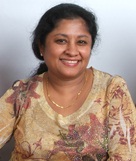 Thiranjani Wijenayake (Mrs. T)
Our Mission Statement:
We strive to provide an environment which is child-centered with an emphasis on the social, academic, emotional, and physical growth of each child.
We strive to help each child in developing a positive self-image and encouraging social and personal relationships.
We strive to provide an environment in which young children have the opportunity to develop curiosity and to experience life and develop a positive motivation to learn.
We strive to accept each child at their personal level of development and to assist that child in utilizing his/her human potential according to the needs of that child.
We strive to assist the child in understanding the golden rule that explains the idea of "sow and reap" as a way in which life expresses itself.