Infant Montessori Program (6 weeks – 18 months)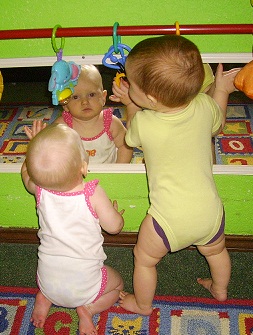 The Austin Children's Montessori infant prepared environment consists of a beautifully decorated room where the infants are allowed the freedom to move and explore when they are awake.   Sleeping infants each have their own special Montessori floor bed, allowing the child the independence to crawl in and out of their bed, have a clear vision of their environment without the obstruction of bars and allowing the child to build self-discipline.Parents prepare their own formula and place it in the class refrigerator for use during the day. Our Montessori Infant Guides sing, talk and interact in positive ways to meet each infant's daily needs while providing the infants with individualized Montessori activities to enhance child's social-emotional, cognitive, language and motor development.
Adult to Child Ratios: 1:4, 2:10
Follow the child.