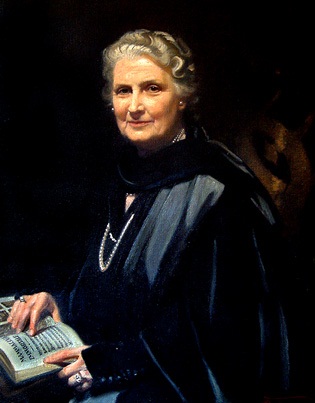 Dr. Maria Montessori (1870-1952) was the founder of the Montessori Method of Education.  She was born in Italy.  After becoming the first woman doctor in Italy, Dr. Montessori dedicated her life to philosophical education.  She observed young children and consulted with child psychologists and scientists to create special learning materials known as Montessori Materials.
The news of Dr. Montessori's great success in her educational method spread around the world and she was invited to the USA by Alexander Graham Bell, Thomas Edison and others.  She spoke at Carnegie Hall in 1915.  Dr. Montessori was invited to set up a classroom at the Panama-Pacific Exposition in San Francisco where spectators watched twenty-one children, all new to this Montessori method, behind a glass wall for four months. The only two gold medals awarded for education went to this class, and the education of young children was altered forever.
Dr. Montessori later lived and she worked in India, where she developed her foundational ideas of Education for Peace and many of her teaching concepts she has today. Dr. Montessori was twice nominated for the Nobel Peace Prize.